This Contest is closed with 352 comments. Thank you to all who participated this contest.
Wow! Wow! Would you like to cook with style and fashion? Guess what?
This is my FIRST GIVE AWAY, so you are welcome to enter and WIN the
amazingly creative apron.
Carolyn West, owner and creator, of Carolyn's Kitchen says "I wanted
to bring back the glamour, sexiness, and cuteness of a bygone innocent era.
The gloves and fabrics are new and nicer - it's a new and improved
version of the '40's." And I think that everyone agrees on a job well done!
This polka dots & pink striped apron is beautiful! Ruffled pocket and pink
ribbon costs $42.00. It represents the ever hope for a "cure." Think pink,
think hope, think life. 15% of all sales of this apron will be donated to
the National Breast Cancer Organization. Helping a great cause was never
so fashionable!
Carolyn's Kitchen will be giving away one Dorothy Breast Cancer
Apron to one of the lucky reader.
Visit Carolyn's Kitchen Website and tell me your favorite apron. This
contest is open for U.S. Residents only.
It's that simple! Be sure to leave your email address so I can contact you if you're the lucky winner.
Head back over to the Give it Away Now!
Blog Giveaway Carnival at Mom Most Traveled
for more great giveaways!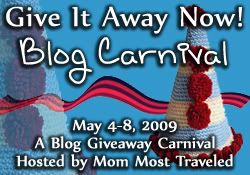 Good Luck! Help spread the word.